CARBON SPONGE STUDIES
Our fist study at the New York Hall of Science (2018 – 2020) resulted in a paper authored by Dr. Sara Perl Egendorf, Dr. Maha Deeb, Brooke Singer, Katharhy Flores, Marisa Prefer, Dr. Zhongqi Cheng, and Dr. Peter Groffman. The paper "Carbon and nitrogen cycling in an urban Constructed Technosol: The artist-led Carbon Sponge pilot study" is currently under review for publication.
Stay tuned for more information soon!
Soil samples from the NYSCI study in the lab at ASRC being processed, 2019.
Dr. Sara Perl Egendorf and Dr. Maha Deeb in the lab, 2019.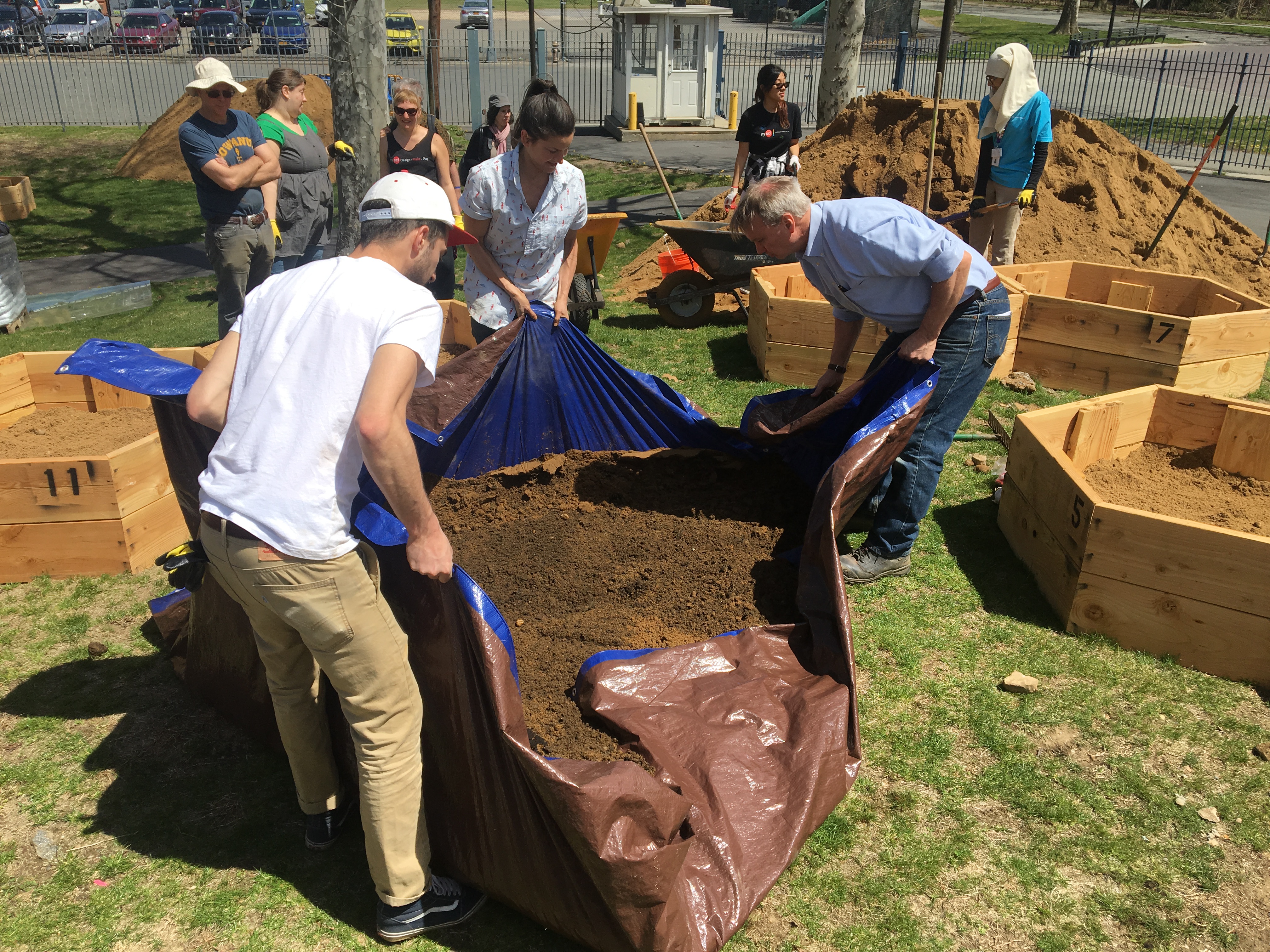 Dr. Sara Perl Egendorf with Daniel Fabricant (volunteer on left) and Dr. Daniel Walsh (Director, NYC Mayor's OER Clean Soil Bank on right) mixing sediment and compost at precise ratios to fill raised beds at NYSCI, 2018.
Carbon Sponge Study v2.0 at White Feather Farm (2023 – )
The second Carbon Sponge study, nicknamed Carbon Sponge Study v2.0, was established in 2023 at
White Feather Farm
in Saugerties, NY. This is an in-ground, on farm study designed by Singer, Egendorf, Deeb and Groffman with additional input from Dallas McCann (Farm Manager at White Feather Farm) and Erin Mulholland (White Feather Farm Research Fellow 2023).
This study focuses on annual white grain sorghum and we are asking:
What is the impact of cultivating annual sorghum on soil characteristics such as microbial biomass, carbon and nitrogen dynamics and respiration?


Do these characteristics differ between growing strategies (growing sorghum alone vs with cover crop)?


Is it accurate to call sorghum a "climate smart" plant in New York State?


Does sorghum show promise to sequester carbon through its deep roots, excessive biomass additions via winter mulch and phytolith or Mineral Associated Organic Matter (MAOM) properties?
This is a partnership with Advanced Scientific Research Center, The Graduate Center, City University of New York; Cary Institute of Ecosystem Studies, Millbrook, NY; and Università del Molise, Italy, Dip. Agricoltura Ambiente Alimenti.
From left to right and top to bottom: Maha Deeb, Brooke Singer, Peter Groffman, Sara Perl Egendorf, Dallas McCann and Erin Mulholland.


Carbon Sponge Study v2.0 at White Feather Farm, 2023 (sign painted by Celia Fay).