ABOUT
Soil is a vital and living entity. A quarter of all known species live in the soil and human life depends on the health of these organisms. Carbon Sponge draws inspiration from soil microbes – small but mighty – and recognizes soil as a dynamic force for social change.
Recent science, much older indigenous practices and the land itself guide our relationships to soil, how we cultivate our food and find a sense of place within complex and changing ecosystems.
Carbon Sponge is stewarding land to grow
and
retain carbon in the soil for the benefit of microbes, plants, people and climate.
Carbon Sponge's Soil Profiling event at White Feather Farm with Olga Vargas (USDA/NRCS Soil Scientist) and Rich Shaw (retired USDA/NRCS Soil Scientist).
THE PROJECT:
Carbon Sponge is a collective research practice and interdisciplinary collaboration between artists, farmers, scientists, agroecologist, educators and the public to understand soil and how our relationship to it can mitigate climate chaos, improve the health of a range of species and build overall resiliency.
Initiated in 2018 at the New York Hall of Science, Carbon Sponge began by designing experimental plots to study soil dynamics and developing reliable protocols for anyone to track carbon and other characteristics in soils over time to grow the carbon farming movement in New York City and, more recently, upstate New York.
Collaborators Past and Present:
Brooke Singer, founder
Dr. Perl Egendorf
Dr. Maha Deeb
Dr. Peter Groffman
Dr. Pasquale Napoletano
Dr. Claudio Colombo
Katharhy Flores
Marisa Prefer
Corey Tegeler
Daniel Fabricant
New York Hall of Science
NYC Mayor's Office of Environmental Remediation
Sahery Arain
Cara Lamberto
Anghelo Guerrero
Pioneer Works
Bronx River Foodway
GrowNYC Teaching Garden
NYU's Urban Farm Lab
Prospect Farm
White Feather Farm
Bonhomie Farm
Foxtrot Farm and Flowers
Mossy Stone Farm
Newton Farm
Nimble Roots Farm
Stoneberry Farm
Sweet Freedom Farm
The Lo Farm
Zena Farmstead
Anne-Laure White
Erin Mullholad
Nathan Pollack
Carbon Sponge has received generous support from: New York Hall of Science, Patagonia, The Globetrotter Foundation, Brooklyn Council for the Arts and Lozen Foundation.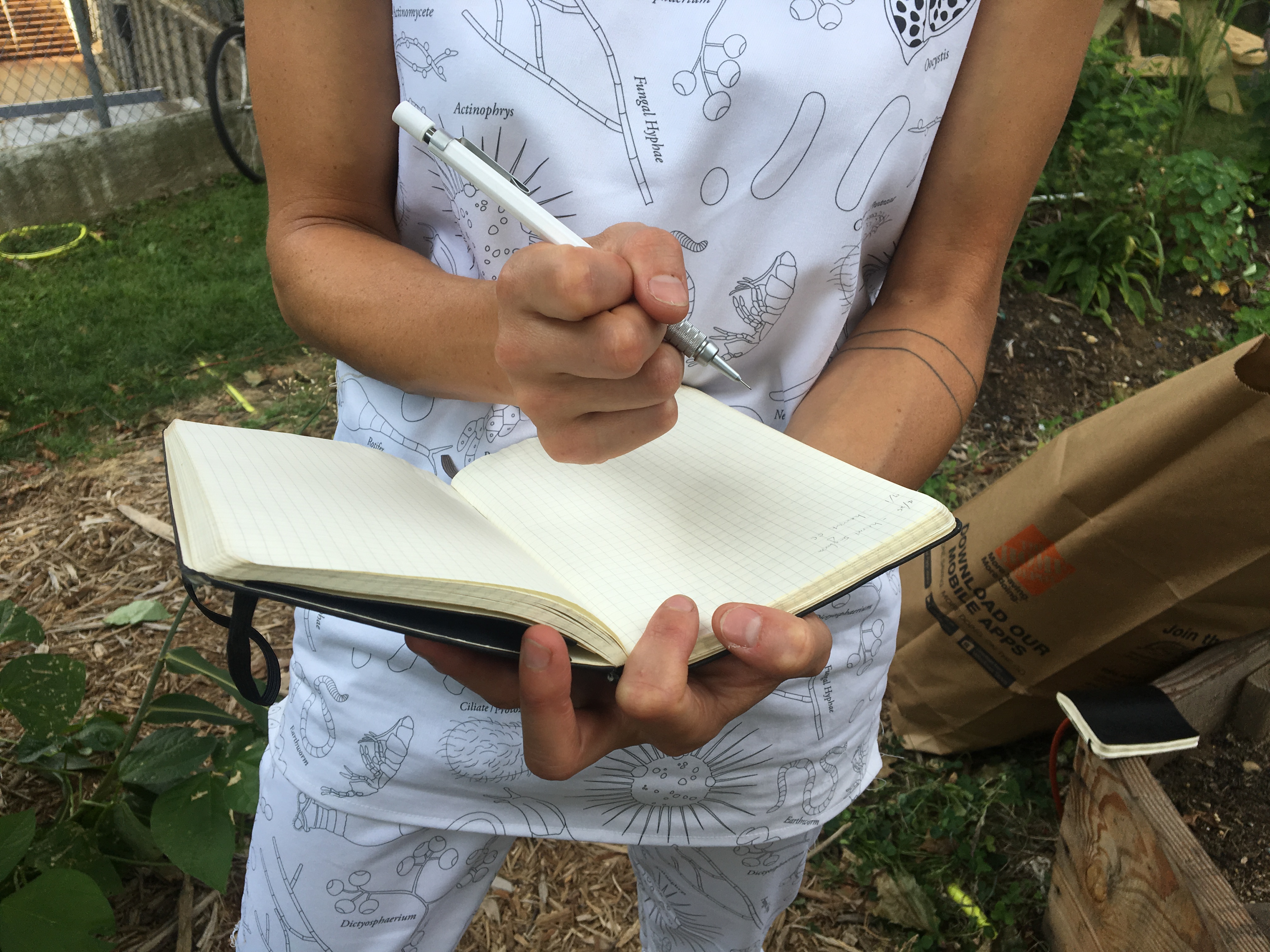 Perl conducting Carbon Sponge field work at NYSCI in a Carbon Sponge "microbe print" suit, 2018.
Contact:
info AT carbonsponge DOT org